What is Insert Molding?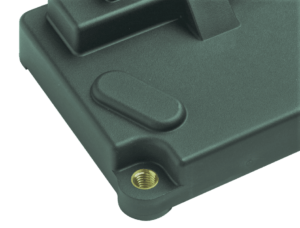 Insert molding is a process that starts with placing metal, ceramic, or plastic parts into the plastic injection mold. After those parts have been properly placed, the mold is filled with molten plastic in the regular injection molding process. Once the plastic has cooled, the inserted parts are now firmly bound to, and integrated into, the plastic parts. There are many options for inserts that can be placed into the mold. Threaded bushings, wires, batteries, and warning labels are a few examples.
Insert Molding vs Overmolding
On the surface, these two techniques look very similar. Insert molding generally takes a small part and encapsulates it within the plastic resin, like embedding a threaded bushing. Overmolding, on the other hand, is the process of plastic injection molding a layer of plastic over the top of another, different material, piece of plastic. An example of this is the housing for a portable drill. The main body of the housing is the first run (substrate) of injection molding, then the softer grips and handles are overmolded onto the main body.
As one of the leading plastic injection manufacturers base in Shenzhen, Ulite has more than 20 years production experiences, we trust we can provide valuable suggestions and high quality products for all of our customers.